You will find links here to community events and information provided by other public and voluntary organisations.
Website to support victims of crime
Fire Safety Advice
www.bucksfire.gov.uk/home/book-free-home-safety-check
Local Policing Update
Quarterly Chesham NHPT December 2017
Services for 50 plus residents
www.chiltern.gov.uk/fiftyplus
Safe Place Scheme – http://www.chiltern.gov.uk/safeplacescheme
'The scheme that assures that you can find a friendly face to help you
in your local shops if you feel you need support' 
Aylesbury Rambling Group Calendar of Walks
Dates from now until January 2018
Chiltern and South Bucks Lottery
Tickets for the Chiltern & South Bucks lottery are now on sale (from 24th October) and you could win up to £25,000 whilst supporting a local good cause.
Tickets cost £1 and are available at www.chilternsouthbuckslottery.co.uk . Draws are weekly and you can support as many good causes as you wish. The first draw will be on 25 November.
Chalk, Cherries and Chairs
The Chilterns Conservation Board has received Lottery funding to improve the Chilterns Countryside – they are looking for input as to how the money is to be spent –
www.surveymonkey.co.uk/r/chalk-cherries-chairs
Schools Appeal Panel
Buckinghamshire County Council is looking for volunteers for this important role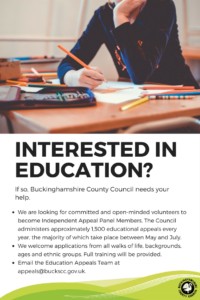 Adult Social Care Changes
Have your say on changes to adult social care charges – survey ends January 19th 2018
https://www.research.net/r/ASCcharges2017BucksCC4
Have your say on Community Care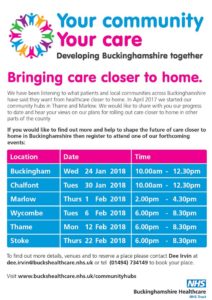 Community care meeting dates
Rural crime update
Rural Crime Update – Parish Newsletter
Chiltern Conservation Board
www.surveymonkey.com/r/FutureOfTheChilterns